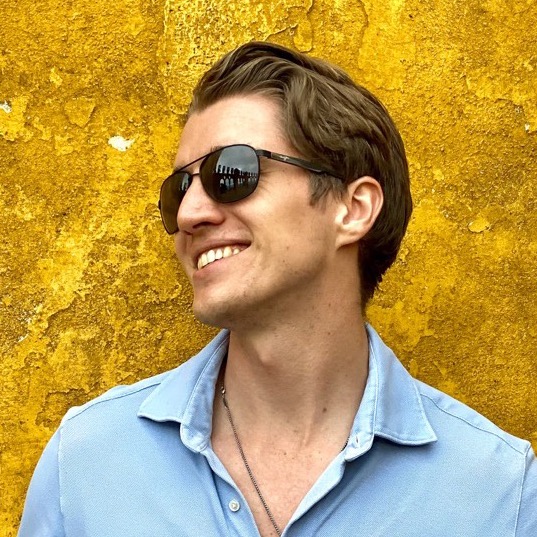 Felix is currently in Vienna, AT
Felix is currently heading to
Leaving for
---
Felix feels
---
Felix ate today
---
Weight
Height
Slept

9 hours

(last night)

Last Workout
Computer Time
Inbox
Personal Todo Items
Unique Website Visitors
Database size
---
Most recent photos
---
Last code commit: an hour ago
on GitHub repo KrauseFx/krausefx.com
---
---
Background: Why I put my whole life into a single database
Back in 2019, I started collecting all kinds of metrics about my life. Every single day for the last 3 years I tracked over 100 different data types - ranging from fitness & nutrition to social life, computer usage and weather.
The goal of this project was to answer questions about my life, like
How does living in different cities affect other factors like fitness, productivity and happiness?
How does sleep affect my day, my fitness level, and happiness?
How does the weather, and the different seasons affect my life?
Are there any trends over the last few years?
How does computer time, work and hours in meetings affect my personal life?
Since the start of this project, I collected ~380,000 data points, with the biggest data sources being:
| Data Source | Number of data entries | Type of data |
| --- | --- | --- |
| RescueTime | 149,466 | Daily computer usage (which website, which apps) |
| Foursquare Swarm | 126,285 | Location and POI data, places I've visited |
| Manually entered | 67,031 | Fitness, mood, sleep, social life, health, nutrition, energy levels, TV, stress, ... |
| Manually entered date ranges | 19,273 | Occupation, lockdown status, living setup |
| Weather API | 15,442 | Temperature, rain, sunlight, wind |
| Apple Health | 3,048 | Days of steps data |
Naturally after I started collecting this data, I wanted to visualize what I was learning, so I created this page. Initially, the domain whereisFelix.today (now renamed to howisFelix.today) started as a joke to respond to friends asking when I'd be back in NYC or San Francisco. Rather than send them my schedule, I'd point them to this domain. However, now it's more than my location: it's all of me.
Rules I setup for the project
Use a single database, owned and hosted by me, with all the data I've collected over the years
Be able to easily add and remove questions on the fly, as I learn what's beneficial to track
Full control of how the data is visualized
Works well for frequent flyers with mixed time zones
100% fully open source, MIT licensed and self-hosted
I selected 48 graphs to show publicly on this page. For privacy reasons, and to prevent any accidental data leaks, the graphs below are snapshots taken on a given day.
More Details on how this works
This project is custom-built for my own personal use, the resulting code is 100% open source on KrauseFx/FxLifeSheet. There are 3 components to this project:
• Database
A timestamp-based key-value database of all data entries powered by Postgres. This allows me to add and remove questions on-the-fly.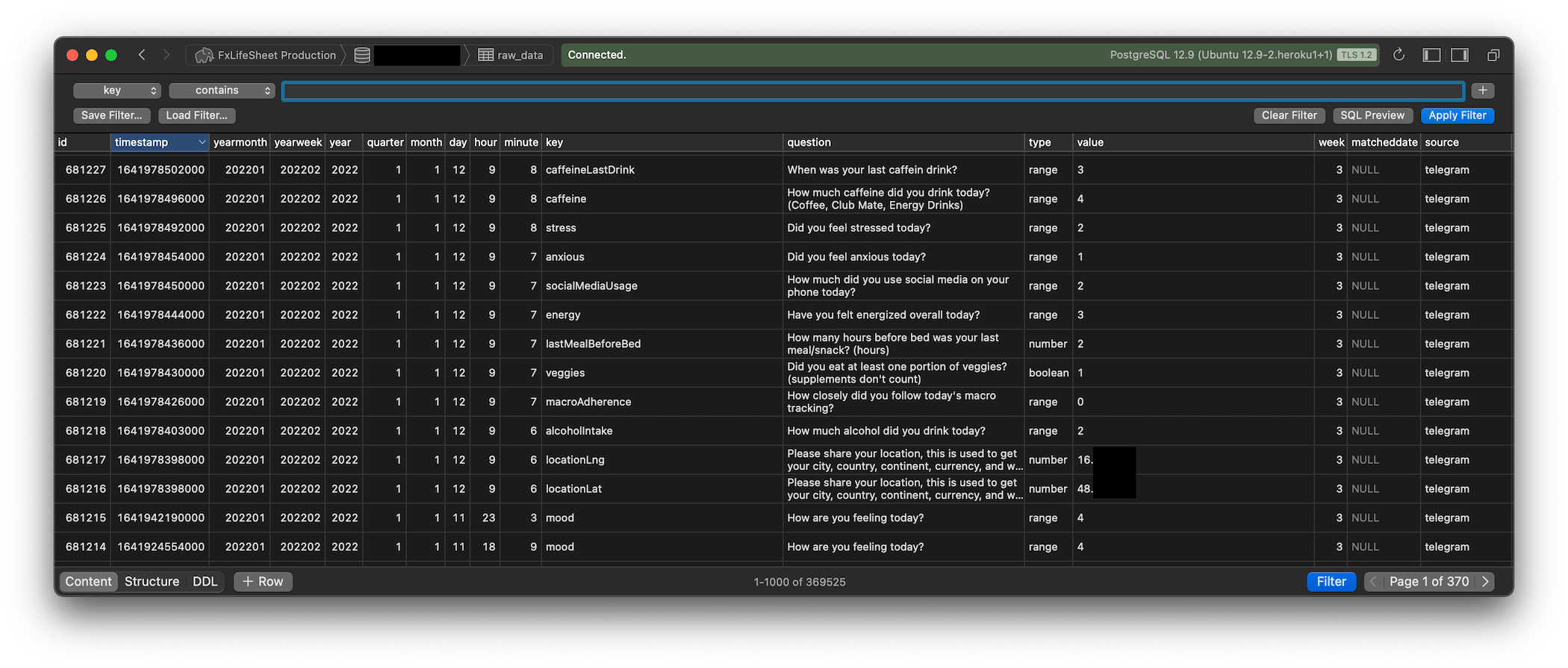 Each row has a timestamp, key and value.
The timestamp is the time for which the data was recorded for. This might differ from imported_at which contains the timestamp on when this entry was created. Additionally I have a few extra columns like yearmonth (e.g. 202010), which makes it easier and faster for some queries and graphs.
The key describes what is being recorded (e.g. "weight", "locationLat", "mood"). This can be any string, and I can add and remove keys easily on the fly in the FxLifeSheet configuration file without having to modify the database.
The value is the actual value being recorded. This can be any number, string, boolean, etc.
Early on in the project I made the decision not to associate an entry to a specific day due to complexities when traveling and time zones, since the idea was just to detect trends using the collected data. It became clear that detecting trends is only a small part of what can be done with the data, so I wrote a script to associate each entry to the correct date.
• Data Inputs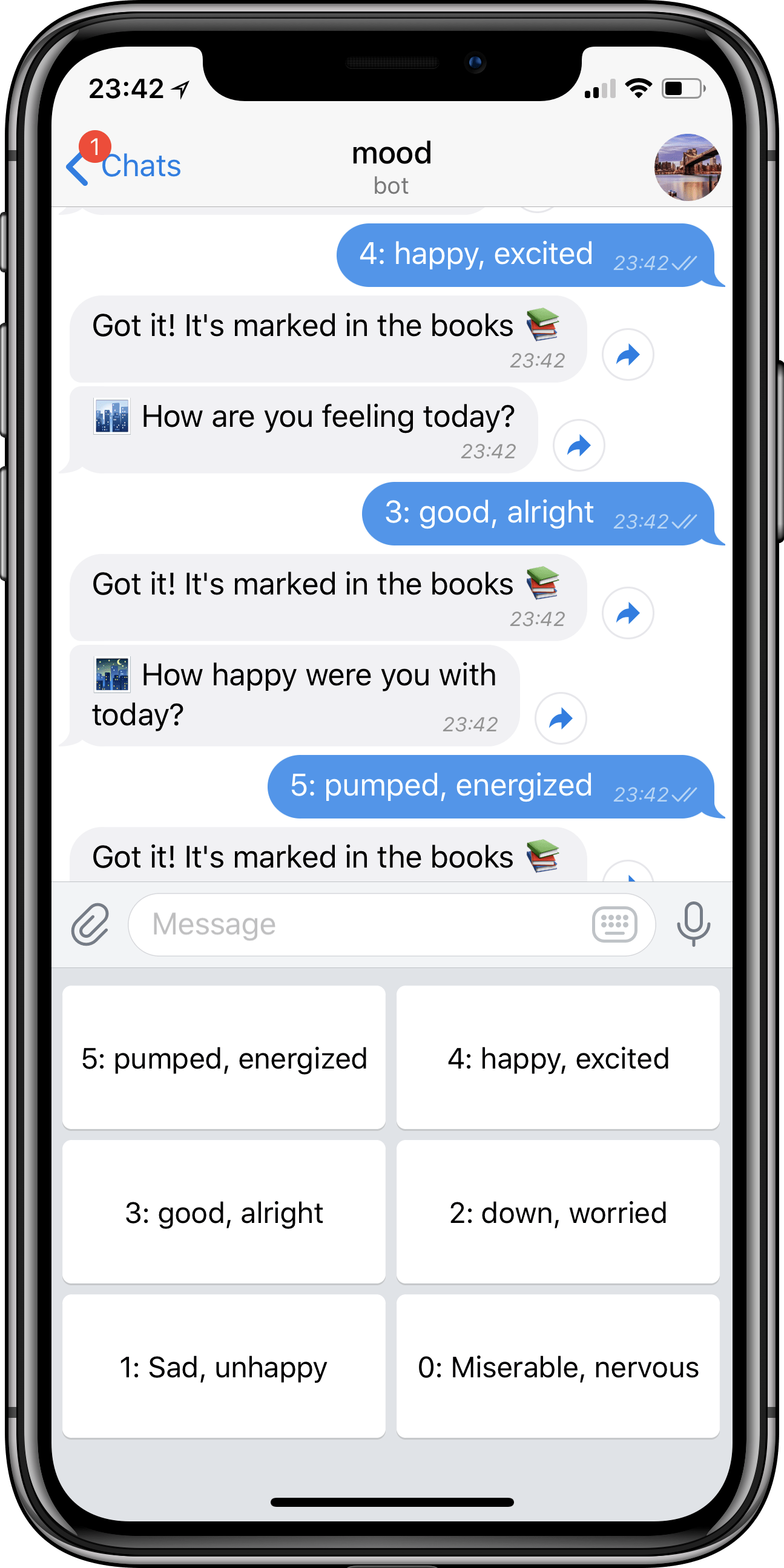 To populate the data, I manually answer questions multiple times a day through a Telegram bot. These questions span from fitness or health (e.g. nutrition, exercise, sleep, etc.) to questions about my life (e.g. how I'm feeling, how much time I spend on social media, etc.). The extensible use of the Telegram API made this easy, and even allowed me to customize the keyboard to have predefined replies based on the question asked.
Additionally I can fill-out date ranges with specific values, for example lockdown periods, and bulking/cutting fitness seasons.
• Data Visualizations
After having tried various tools available to visualize, I ended up writing my own data analysis layer using Ruby, JavaScript together with Plotly. You can find the full source code on KrauseFx/FxLifeSheet - visual_playground.
---
But what about privacy?
I actually published many privacy projects for iOS. That little green/orange LED that's rendered on iOS when you record something? Yep, that was me! So why this project?
Much of the data visualized here, is data many larger companies already have about you. Why shouldn't you have it as well?
The data is stored in my own, private database, not connected to any service
The data shown above seems very personal but doesn't actually expose any sensitive information. For example, disclosing your current location, your home address, or stores and places you frequently visits is sensitive and potentially dangerous. Even looking at the map of my movement data, you won't get any more information that what most people have in their public Twitter bio.
Can I use this for my life?
Yes, you could. However, setting up FxLifeSheet is a bit of a challenge and requires engineering skills and time. Some of the features are specific to my life (like the services I use), and so you'd have to modify parts of the codebase. This project is 100% open source MIT licensed, so you can use, and modify everything to your liking. However, I don't plan on productionizing this project, nor providing any support on GitHub for it.
Realistically, if you want to get started with QuantifiedSelf, you can use one of the services availalbe. I'd recommend looking for the following:
Make sure you get full access to the data, as a data export, or a public API
See how the project maintainers react to feedback. Do they listen to their users, and address issues?
How much time do you want to invest tracking your data?
What's their business model? Are they sustainable and charge money for their service?
Don't use anything that's only available as an app: In my experience apps tend to be their own data silo, their feature sets are limited, and analyzing data on the big screen is way more efficient.
Conclusion
I've always been fascinated by tracking my own data, and seeing it visualized. While I can't pinpoint the reason why, I remember having this fascination growing up, asking myself questions like How many steps did I walk in my life?, and Did I turn right more often or left?.
Having read many articles similar to r/QuantifiedSelf/, I really loved the visualizations, but disliked the fact that almost all solutions were data-silos (e.g. standalone iOS apps, Gyroscope, …) without having full control over the data, nor how it's visualized. Because the data collection spans multiple years, I was apprehensive to rely on any startup or service that runs the risk of being shut down. Additionally, every individual may have differences in how they want to visualize or analyze the data.
Apple was in a great position to improve the current state with Apple Health, but they completely failed with their implementation on both the APIs, as well as the actual Health app.
One aspect I overestimated is the number of days you will track: If you want to look into how many steps you walked in a given city, you'll quickly notice the number of days in each city already being quite low. You'd then also slice the data by season or temperature, since you naturally walk less on very cold days, ending up with only a handful of days outside your main residence.
Overall, having spent a significant amount of time building this project, scaling it up to the size it's at now, as well as analysing the data, the main conclusion is that it is not worth building your own solution, and investing this much time. When I first started building this project 3 years ago, I expected to learn way more surprising and interesting facts. There were some, and it's super interesting to look through those graphs, however retrospectively, it did not justify the hundreds of hours I invested in this project.
I'll likely continue tracking my mood, as well as a few other key metrics, however will significantly reduce the amount of time I invest in it.
I'm very happy I've built this project in the first place, as it gave me a much better awareness of everything going on in my life. I'm excited to have built this website to wrap-up this project and show-case some of the outcomes to the public.
---
---